Grenadine Islands (Mardi Gras in Martinique)
on Royal Clipper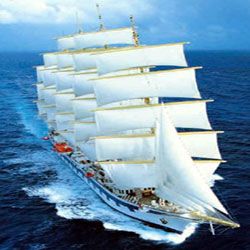 Inspired by the tall ship Preussen, the Royal Clipper has the proud distinction of being the largest and only five-masted full-rigged sailing ship built since her predecessor was launched at the beginning of the last century. With her complement of 42 sails, Royal Clipper is a splendid sight to behold.

Since 1991 Star Clippers Ltd. has offered sophisticated travelers the ultimate cruising vacation alternative – a tall ship "mega-yacht" experience aboard authentic re-creations of the classic sailing clipper ships that ruled the waves during the 19th century.
The brainchild of Swedish entrepreneur, Mikael Krafft, Star Clippers operates three of the largest barquentine and full-rigged sailing ships in the world. Star Clipper, Star Flyer and flagship, Royal Clipper are a triumvirate of
...
| Day | Destination | Arrive | Depart |
| --- | --- | --- | --- |
| 1 | Bridgetown, Barbados | | |
| 2 | Captain's Best, Grenadines | | |
| 3 | St. George's, Grenada | | |
| 4 | Tobago Cays, Grenadines | | |
| 5 | Fort de France, Martinique (Mardi Gras Carnival pa | | |
| 6 | Admiralty Bay, Bequia (AM) | | |
| 6 | Kingstown, St. Vincent (PM) | | |
| 7 | Soufriere, St. Lucia (AM) | | |
| 7 | Marigot Bay, St. Lucia (PM) | | |
| 8 | Bridgetown, Barbados | | |